The 2018 Fall in Minnesota has been a bit different from a normal fall.  According to the Minnesota Department of Natural Resources we have had the coldest waterfowl season on average since they started tracking 50+ years ago.
I like to follow the waterfowl migration each year and have found that this year we are 2-3 weeks ahead of a normal year migration.  Meaning the peak of waterfowl came through Minnesota 2-3 weeks earlier than normal.  Here is a prime example from the MN DNR report posted on October 25, 2018:  Rice Lake, NWR near McGregor had 732,000 ducks on the lake in 2017 for this date and 5600 ducks this year.  Huge difference!  We are seeing the migration sample throughout the state with similar results except in the southern part of the state.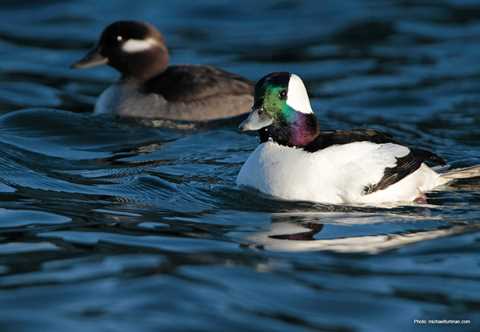 The hopeful person that I am, I decided to check the Ducks Unlimited migration report for October 18 and found statements from their reporters of, "season is over and the ducks are gone for this year.  We have freeze up."  Throughout Canada the provinces had early freeze outs of all but the largest lakes sending migrating waterfowl south.  Seems they passed right through Minnesota as we did not have good weather either.
Now the bright spot!  The new DU reports out of the Canadian Provinces are that there were still lots of ducks and geese that are now moving into the area.  The doom and gloom from the early reports seem to be changing.  Most reports did say that season ending freeze up was emanate however up there in the next week or two.
As we traveled through from Forest Lake to Middle River, Minnesota and back, we saw a lot of  swans which typically bring up the rear for the waterfowl migration each year along with goldeneye, mergansers, and bufflehead ducks.  We saw plenty of goldeneyes and mergansers but no bufflehead.
Very strange fall in Minnesota as now the new reports in Canada are saying they are seeing large flocks of mallards and scaup.  Both are hardy and not early migrants but unexpected after the reports of early freeze up in Canada.  Who knows this year maybe the wood ducks and blue wing teal didn't actually leave in September and early October like normal.  At this point what is normal?
Strange fall in Minnesota!  Anyway get out and enjoy our wonderful fall season and watch for the migrating waterfowl.  They can be spectacular to see if you time it right.
One fact that most don't seem to know is that coot migrate at night.  Have you ever seen a flock of coot (coot are not ducks but are related to grouse) migrating?  I know I haven't and the information I read stated that they migrate at night.  I guess they don't like how they look flying so they go when know one can see them.  They are so vain!